Colombia
CONTACT
Jesús Torres
Country Manager
info@ecbengineeringfirm.com
Bogotá (Regional centro y Oriente de Colombia)
Phone: + 57 311 453 2064
Address: Calle 95 No. 13-09 Oficina 201. CP: 110221. Bogotá, Colombia
TODAY WITH THE GROWING NEED FOR DIGITALISATION OF COMPANIES

Selection and Headhunting
We present the profiles that best fit your type of company in the shortest possible time frame. We help our clients in a personalised way, undertaking partial or complete selection processes.

Outsourcing
Delegating responsibilities inherent in HR enables companies to focus on business development and economic growth. For that reason, we offer a comprehensive service for the administrative management of talent.

Outsourcing of
IT Departments
We provide complete computer departments and offer software solutions adapted to the types of needs of each business
OUTSOURCING OF IT DEPARTMENTS AND IT SOLUTIONS
New technologies are increasingly present in the day-to-day business of a company and as a result there is a growing need for digitalisation. The creation, hiring and maintenance of an IT department entails a major investment and a change in the organisation that not all companies can afford.
An efficient, quick and economical way for the organisation to maintain its standards at the levels required by the market in the technological area is through the outsourcing of IT departments. With this type of outsourcing, the new team will be responsible for advising and implementing the appropriate technological solutions for the structure, objectives and budget of each business.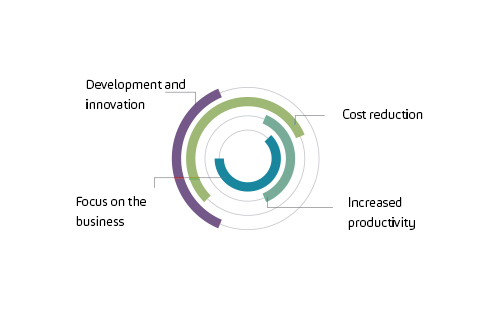 We place at your disposal: